Professional snow removal in Denver CO might seem like a luxury, but it's actually a vital property maintenance service every homeowner needs! Expert snow plowing and shoveling can protect a property from damage while also keeping you safe indoors. Before you drag out your snow shovels and fire up the snowblower, check out 5 reasons why you should consider hiring experts for Denver snow removal instead!
1. Professional Snow Removal in Denver Protects Pavement
Homeowners often don't realize how easy it is for snow shovels, blowers, and other tools to damage concrete, asphalt, pavers, and similar materials. Plow blades can even dislodge aggregate that keeps asphalt and concrete together.
A professional snow removal company in Denver knows how to keep blower blades, shovels, and other items off the pavement during the snow clearing process. Expert contractors also ensure they use light pressure when scraping away ice, heavy snow, and the like, to avoid damaging a property's pavement.
2. Protect Your Back With Denver Snow Removal Services
Wet snow and ice are often heavier than homeowners expect! You might not even realize the pressure you're putting on your back, knees, hips, and other joints until the morning after you've cleared your property.
Pain and stiffness from snow shoveling can last for days and put you at increased risk for slip and fall accidents as well. Your back and joints help keep you balanced and upright; when you're suffering inflammation or injury, your balance is compromised. You can then more easily fall on slippery surfaces around your property.
3. Exertion In Cold Weather Taxes Your Lungs
If you've ever felt out of breath after snow shoveling, don't assume you've just had a good workout! Lungs cannot expand and take in a sufficient amount of air during cold weather; taxing your lungs when they're already closed up can risk damage.
If you already suffer from asthma, allergies, or other breathing disorders, this can mean an even greater risk of shortness of breath and other health concerns. Avoid this risk by staying safe and warm indoors and hiring a pro for Denver snow removal instead.
3. Snow Removal Can Risk Heart Attacks!
Emergency rooms in snowy areas actually gear up for added heart attack cases during winter months! Too much exertion, and especially if you exert your heart suddenly and quickly, can trigger a heart attack. Snow shoveling means lots of stress and strain on the heart which can restrict arteries and drive up blood pressure.
While snow shoveling is dangerous for anyone, the risk of a heart attack increases for those over age 55 and persons with existing heart conditions. No matter your health, it's best to leave this work to professionals.
4. Blown Snow Can Damage Property
It's not unusual for homeowners to overlook where they toss or blow snow they're removing. This can result in costly property damage including broken house and car windows, damaged fences, and damaged landscaping features.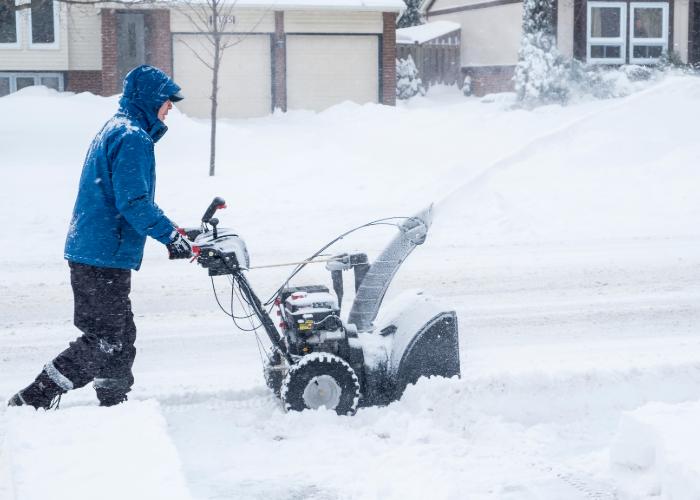 Even if you're not overly concerned with your own property, consider if you live close to a neighboring property! Snowblowers can toss snow several dozen feet, risking damage to a neighboring home or parked car. To avoid having to reimburse a neighbor for damage or pay for repairs to your property, rely on a professional snow removal company in Denver.
5. You Have Better Things To Do With Your Time!
Snow removal is often time-consuming, and especially when big storms move through the area. It can often feel like you just get done clearing your property when the snow starts falling again, or that it never stops falling!
Putting off snow clearing is not the solution, as snowdrifts just get deeper and more cumbersome to clear. In turn, you might increase your risk of injury or property damage, and end up spending even more time chipping away at fresh ice.
In addition to all these reasons why you should hire a professional for snow removal, note that relying on a pro means not having to worry about the condition of your shovels and other equipment! You don't need to make room in the garage for a cumbersome blower or winterize and prepare it for spring storage when you call a professional snow removal contractor.
Snow Removal Services Denver is happy to offer these 5 reasons why you need professional snow removal in Denver! If you're tired of having to clear snow from your property yourself, and to keep yourself safely indoors during long winter months, call our Denver snow removal contractors. We can tailor a snow removal program to fit your property and budget. To find out more, give us a call today!